Customer Care & Delivery – We offer assistance and support during all aspects of the sales order process and also ensure that we establish an ongoing relationship with our customers, each customer has an Account Manager to deal with your every requirement.
Here at TODDS customer service is an attitude and not just a department.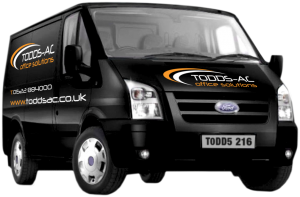 Once received your order is carefully picked and packed, then delivered using one our own fleet of vehicles. Our helpful delivery staff are on hand to help you where they can. 99% of office product deliveries are made 'Next Day', with furniture installations taking place at a mutually agreed installation date.
Our fully trained Project Mangers are on hand to oversee the often stressful development of your Refurbishment. From design to conclusion we take the day to day pressures from you, to meet the deadlines you propose.