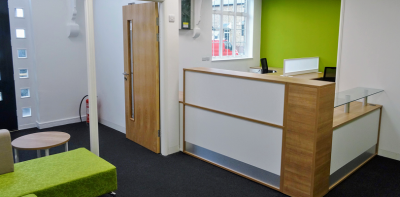 PROJECT
Grove Road Primary School Refurbishment
 

Grove Road Primary School Refurbishment
The Grove Road Primary School Refurbishment project was completed by TODDS in 2016.  Grove Road Primary is a school in Hounslow for children aged 3-11.
  The Challenge

Lyn Grey (Head) first contacted TODDS back in 2015 to invite us to look at the entrance to the school. The front of the building was home to the offices and staffroom and its poor layout was not creating the first impression they wanted. The project involved pulling down all the internal walls to start with an empty shell and design a new layout that would be more practical. Along with this would be decoration, flooring, data works, lighting, furniture and a new kitchen.
 

The Solution



The project was made up of 4 design revisions which first of all involved finding a suitable layout that would then need furnishing. Lyn wanted to create a modern feel which we achieved through the use of Imperial's Pure range of furniture. This product can be found throughout the entrance, reception, deputy head's office, SENCO office, head's office and the staffroom. Other products used were Ocee Designs Forum, Patch, Goal, Skyline, Venus and Elites Leola. Upholstery is in Camira's Halcyon Blossom Gooseberry and Urban District and so to continue with the modern feel Lyn selected a green feature colour to run throughout that matched these chosen fabrics. The whole installation took place over the summer holidays with 2 full weeks of building works first. It was crucial that the site would be ready for the school to re-open for the new term in September. The end result has created a welcoming space that allows staff to work in a more efficient way. By replacing the dark interior with an open, bright space, this now makes for a positive learning environment the school can be proud of.
 

Scope of Works
Rip out & fitting of flooring
Electrics & data works
New lighting & ceiling crid
New kitchen
New office, reception & soft furnishings
Space planning
Design & 3D CAD planning
Decoration works
 

Links