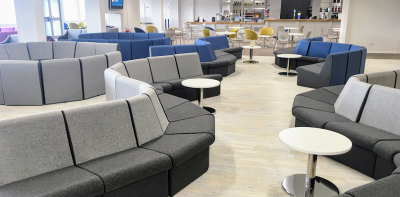 PROJECT
Humberside Airport Departures Lounge Refurb
 

Humberside Airport Departures Lounge Refurb
The Humberside Airport Departures Lounge Refurb project was completed by TODDS in 2016. Humberside Airport is an international airport in Kirmington, North Lincolnshire. It faces competition from East Midlands, Robin Hood Doncaster Sheffield and Leeds Bradford international.
 

The Challenge



Having worked alongside Jane Varley (Eastern Airways) before in Aberdeen, she contacted TODDS to come up with a solution. The departures lounge at Humberside Airport needed a face lift and new layout. After meeting with Graham Parker (Terminal Services & Airport Security Manager/General & Compliance Manager), it was clear that their vision was to create a space different from any other and that tied in with the airports branding rather than the uninviting areas we usually see when traveling.
 

The Solution
It soon became clear that the entire room would need refurbishing to tie in with the new furniture. This included flooring, paint work, a new bar as well as refurbishing the toilets. After many revisions and designs, Jane/Graham selected a final layout. Using a combination of Ocee Design products we could provide a solution that would not only look great but withstand the desired level of use. This included soft seating, both high and low level bar seating, a DDA compliant area as well as powered workstations for laptops. Products included were Forum, Den, Patch & Venus and fabrics were selected from Camira's Blazer range due to its high levels of durability and billiard cloth felted finish – a combination of Dunhurst, Newcastle, St Martins, Surry and Silcotes. Overall the project took just over 4 weeks to install which took careful planning. We had to work around the airports busiest hours and into the night to complete with minimal disruption. This meant that elements like flooring would be split into 4 different sections to allow continued use of the departures lounge. The result was beyond what both TODDS and the staff members at Humberside were expecting. Now this is an enjoyable space that makes travelling a little more luxurious.
  

Scope of Works
Space planning
Design & 3D CAD planning
Soft and hard furnishings
Rip out and fitting of flooring
Decoration works
Painting/design of new bar
DDA furnishings
 

Links