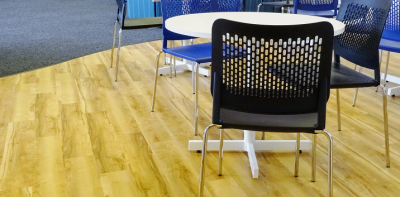 PROJECT
South Axholme Academy Common Room Refurbishment
 

South Axholme Academy Common Room Refurbishment
The South Axholme Amy Common Room Refurbishment project was completed by TODDS in 2014. South Axholme Academy is situated in North Lincolnshire and offers education to students from age 11-18.
 

The Challenge
South Axholme Academy contacted TODDS to create an environment which would be the perfect Launchpad for their new sixth form. Working closely with Sarah Thompson (Head)  & Karen Wild (Business Manager), TODDS needed to design a space, whilst working on budget, which would give the WOW factor the project deserved.
 

The Solution
After the plans were produced, both Sarah and Karen settled for a mix of Ocee Design's Forum, Patch & Venus to create a relaxing and social environment and Imperial's Pure bench system to allow for flexible working and learning. Completing most of the sixth form refurbishment over the Christmas period, TODDSthen installed the furnishings in January. The project was a great success, the school were very happy with the service and the students now have an enjoyable space that promotes learning.
  

Scope of Works
Space planning
Design & 3D CAD planning
Soft and office furnishings
Rip out and fitting of flooring
Decoration works
 

Links